Agile Coach, Certified Scrum Trainer & Mentor
Agile Coach, Certified Scrum Trainer & Mentor

As a seasoned Agile Coach, I've had the privilege of leading some major digital transformation projects and facilitating the adoption of Agile and DevOps practices. I'm passionate about helping my clients achieve their goals and delivering top-notch products.
My approach to coaching combines my expertise with a personal touch. I believe that effective leadership starts with building strong relationships, and I work hard to get to know my clients so I can better understand their unique needs and challenges.
When I'm not in the office, you'll probably find me indulging in my two other passions: property development and aviation. I love getting my hands dirty on building sites, and I also have a goal to get my Private Pilot's Licence. And when I need to cool off, I head to Wales to take a dip in an icy lake.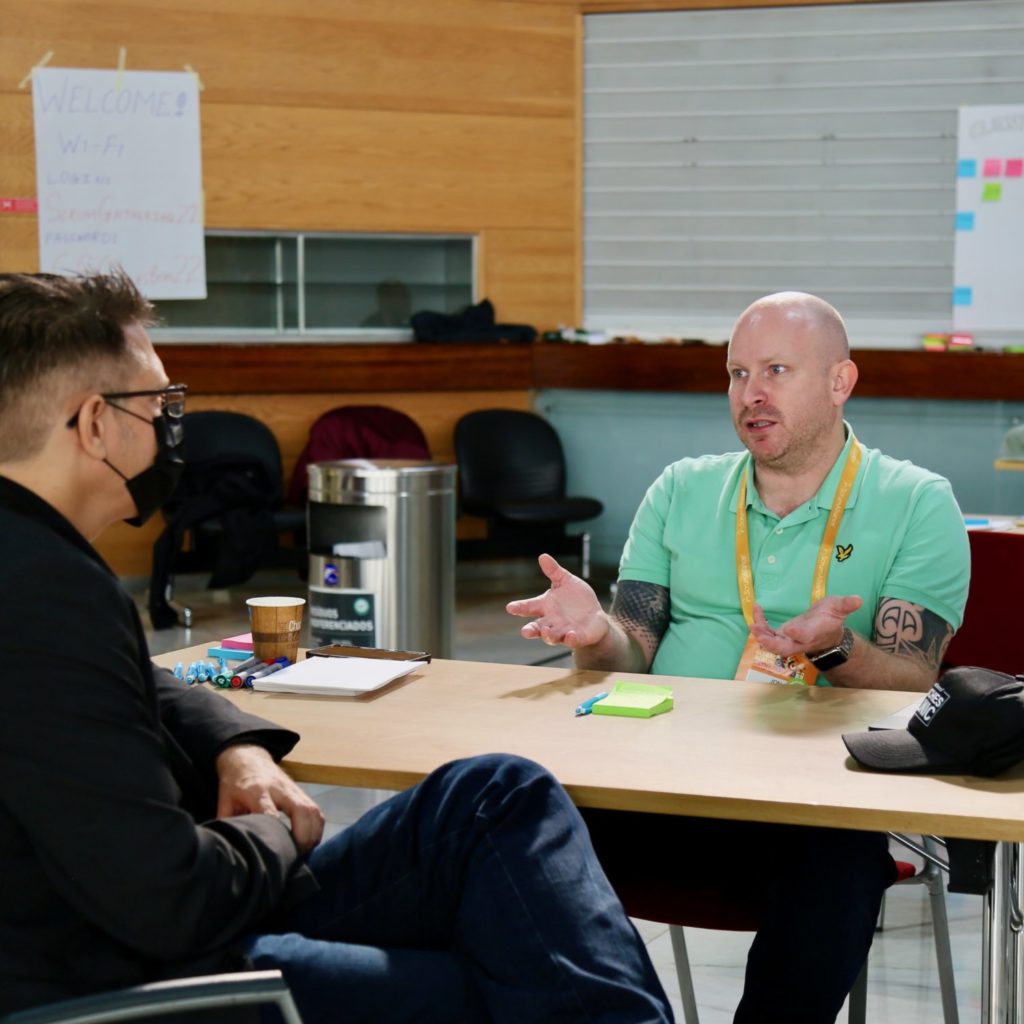 An outcome-focussed Scrum Alliance Certified Enterprise Agile Coach (CEC) and Certified Team Agile Coach (CTC) with a passion for developing the humans that build amazing products.
As a seasoned professional with years of experience, I have worked with clients from various industries and regions worldwide. From Telecoms to Banking, Government to Retail, Marketing to Pharmaceutical, Defence to Renewable Energy, and Fintech to Fashion, I have seen businesses' common challenges in their quest for agility. 
I am passionate about helping my clients overcome these obstacles by working closely with their teams and the systems they operate in. 
I aim to build trust and create connected teams that can deliver exceptional results, delivering products that truly delight their customers. With my extensive experience and deep understanding of the complexities involved in business, I am confident that I can help you achieve your goals and take your business to the next level. 
Whether facing a specific challenge or simply looking to improve your overall performance, I am here to help you succeed.
HOW CAN I SUPPORT YOUR JOURNEY?
Special Approach To Every Client
As a seasoned change veteran with experience in both fast-paced media companies and complex finance institutions, I know what it takes to create high-performing teams and organisations.
I bring an energetic and engaging approach to my work, showing clients how to create cross-functional teams that can quickly focus on delivering innovative solutions and ongoing value in a predictable way.
I am not afraid of having the difficult conversations, but my empathy for individuals, no matter their seniority, allows me to understand and appreciate their context and challenges. This understanding has been key to my success in large organisations with substantial regulation and legacy technology.
My journey is full of practical, real-world experience, and my stories are infused with infectious energy and passion for the power of team and business agility. Whether your industry is risk-averse and conservative or fast-paced with rapid deadlines, I can help you increase your agility and further your leadership journey. Let's work together to create real, lasting change.
Workshops and Training Courses by Jon Spruce
As an authorised trainer for SAFe, ICAgile, Scrum Alliance Foundations and Scrum@Scale, I have a deep understanding of the principles of Agile and Scrum methodologies. My aim is to support the growth and development of your teams, helping them to become more agile and efficient in their work.
With extensive experience in both in-person and remote training, I have the ability to create meaningful connections with attendees and impart knowledge that lasts. Whether you're looking to introduce Agile and Scrum to your organisation for the first time, or you're looking to improve your existing practices, I can help you achieve your goals.
In my training sessions, I cover the key concepts of Agile and Scrum, as well as practical techniques for implementation. I believe in creating a supportive and inclusive learning environment, where attendees feel comfortable asking questions and participating in discussions.
If you're looking to enhance the agility of your teams and improve your business practices, I offer both public and private training options. Please feel free to get in touch to learn more about how I can help your business thrive.
AGILE CONSULTING, Training & SPEAKING
As a seasoned speaker, I have a passion for sharing my insights and experiences with audiences all over the world. Whether you're hosting a conference, a webinar, or a meetup, I'll bring my unique approach to the forefront.
With a talent for connecting with my audience, I keep things real and approachable, mixing candor, humility, and humor to create a memorable experience for everyone in the room. My goal is to make sure your attendees leave feeling inspired, entertained, and informed.
If you're interested in booking me for your next event, please don't hesitate to get in touch. I'd be more than happy to share more about my speaking style and experience, and answer any questions you may have. Let's work together to bring your event to the next level!
Agile Consulting, Training & Speaking
Digital & Physical Products
I've had the experience of working with some of the biggest brands in the world and leading teams to create truly amazing products. From early java-based mobile apps to interactive global experiences and beyond, I've been a part of some seriously cool projects.
Take my work with Beats By Dre, for example. My team helped build an unprecedented social following by pioneering influencer marketing and fan-created content. The huge launch event for Nike's physical products in London,  used massive data visualisation projection mapping driven by live attendee data to bring the event to life.
I've also been a part of some unique projects, like supporting Tempest programme, a next generation fighter jet with BAE Systems and even launching the vegan meatball marina for Subway. These show my ability to tackle diverse and challenging projects, and bring teams together to achieve great things.
But it's not just about creating flashy, attention-grabbing products. I've also worked in large banking enterprises to drive big transformations, and have coached leaders to help them reach their full potential. I understand the complexities of working in regulated industries and the importance of building high-performing, agile teams.
If you're looking to help your team reach new heights, let's chat.
Digital & Physical Products, TV Advertising & Live Events
Ready to Embark on an Agile Adventure?
I'm here to guide and support you through every step of your Agile and Scrum journey. Discover the various services I offer, each designed to cater to your specific needs:
Training:

 Ready to start an Agile adventure? Whether new or looking to enhance your Agile practices, I offer tailored training options in Agile Coaching, Scrum and Scaling. My training approach is hands-on, practical, and aimed at empowering your teams and improving your business practices.

Mentoring:

 Your journey, your pace. With flexible scheduling, you can book sessions when it suits you best. Depending on our mutual availability, this could be intensively at the start or spread over a year. I'm here to provide support exactly when you need it.

Coaching:

 As your coach, I focus on your personal and professional development, helping you to navigate challenges and achieve your goals. I bring a wealth of experience and a personalized approach to ensure you get the most out of every session.

Speaking:

 As a seasoned speaker, I love sharing my insights and experiences at global events. My speaking style blends candour, humility, and humour, ensuring a memorable and engaging experience for all attendees. Suppose you're hosting a conference, a webinar, or a meetup. In that case, I'm here to bring a unique perspective and make your event memorable.
Whether you're interested in training, mentoring, coaching, or inviting me as a speaker, I'm eager to hear from you.  Let's discuss your goals and how we can achieve them together. For more information or to book a session, please don't hesitate to reach out.